Affiliate for Publishers and Advertisers
[box][space height="40″]
[column size="7″]
[tabs]
[tab title="SELL PRODUCTS "]
SELL PRODUCTS ONLINE AND MANAGE AFFILIATES THE WAY YOU WANT
Manage your products conveniently.
Easily get payment buttons or links to your website
Sell anything you want: digital, material, subscription products
Accept orders, manage products, customers and affiliates from one place
Auto delivery of your product file to your customers.
Track your affiliates in real time.
Affiliates can promote your products and thus increase number of your sales
Tools to handle hundreds of affiliates easily (mass pay for commissions, custom commission percentages, manual approval option).
Protection from cheating affiliates.
TOTAL CONTROL OF YOUR SALES AND AFFILIATES
"Private" affiliate management system is like a true in-house affiliate program. While you receive money from your sales directly to your merchant account, it is only up to you to decide on every other aspect of your e-business: selective group of affiliates, affiliate payments (who, when, how), refunds, etc. Have a total control of your business via reliable, user-friendly and safe system.
In order to start selling products you only need a PayPal (or any other online payments or credit card processors) account and you are good to go!
Track your sales, customers, refunds and other statistics in different reports
Real-time statistics of website visitors, sales, various trends
Charts, flexible time periods to provide you with the best perspective of your sales
Easy to start as no special integration is required.
All your most important data, all in one place.
[/tab]
[tab title="Publishers"]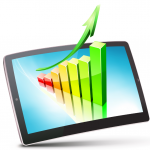 Monetize Your Website Traffic
Affiliate Marketing for Publishers
These days a Publisher can be any type of website from a well known destination that offers consumers a range of shopping opportunities to a blogger that's just beginning to attract an audience. Regardless of what type of site you have in mind (or already have in place!) as you build a loyal following you have an opportunity to monetize your website and start earning commissions!
Also called an Affiliate, a Publisher displays ads, text links, or product links from an Advertiser in return for a commission when a sale is made or when a lead is acquired. The sale can also be tied to a specific action such as filling out a form or downloading a trial. EDVat.com Link facilitates relationships between Publishers and Advertisers by providing the underlying technology that manages links, tracks results and commissions, and sends payments.
Start earning money from your Website traffic and join, the Network.
There is no fee to join!
[/tab]
[tab title="PRIVATE  MANAGEMENT"]
ABILITY TO RUN PRIVATE AFFILIATE PROGRAMS
You will have the ability to create your own affiliate programs on your website and attract affiliates to join them.
COMPLETE CONTROL OF YOUR AFFILIATES AND PAYMENTS
Only you decide how often you want to pay your affiliates and when to pay them.
REGULARLY MONITORED AFFILIATES
We monitor all affiliates for spamming, scamming or any other fraudulent activities, so you don't have to worry about legitimacy of your affiliates. We'll take care of it!
CONVENIENT TOOLS TO KEEP IN TOUCH WITH YOUR AFFILIATES You can send them regular newsletters or just contact some certain affiliate.
ABSOLUTE FREEDOM IN RUNNING YOUR BUSINESS. You determine the policies, you provide guarantees, you handle refunds / chargebacks. All affiliates are yours and you have a full control what to do with them – approve, deny, contact, encourage and so on.
The essence of the PRIVATE Affiliate Management System: you get payments from customers directly to your merchant account and completely control your affiliate program – you pay affiliates yourself.
It will depend on the price of product you sell.
Remember – when you use PRIVATE Affiliate Management System we don't ask any questions about your business – it's yours and you run it like you want to!
[/tab][/tabs][/column]
[column size="5″]
[header class="head"]PRODUCTS ONLINE[/header]
[add-border]
[progress value="65″ title="Digital"]
[progress value="50″ title="Material"]
[progress value="75″ title="Subscription products"]
[progress value="70″ title="NEW PRODUCTS"]
[/add-border]
[/column]
[/box]